Taking part in the #besserwasser challenge
Getting chosen to take part in the #besserwasser challenge, I got the amazing chance to try the BWT Magnesium Mineralizer. It reduces the carbonate hardness of tap water and filters out any harmful things that might be in your water like chlorine. As a bonus, it adds magnesium to your water to maintain mineral balance. I'm already looking forward to trying the BWT Magnesium Mineralizer over a longer period of time and even try to stop taking my magnesium supplement and see whether it also helps with the usual headaches I normally get without taking magnesium. I think especially for very active people who drink a lot and have a higher need of magnesium, this mineralizer might be interesting.
If I caught your interest, check out the BWT Magnesium Mineralizer here.
Sharing two recipes
As part of the challenge, I have to take a photo with the BWT Magnesium Mineralizer and I thought why not combining this with two recipes using filtered water. First of all, I created a vegan and paleo raw strawberry cake which is perfect for those hot summer days. The second recipe is a raspberry lemon syrup, you can enjoy after a hard workout to hydrate and refuel your magnesium when enjoying it with filtered magnesium water. Magnesium helps with muscle soreness and recovery and is very important for overall health. If you want some electrolytes, simply add some coconut water.
Support me
If I get chosen by the jury for public voting, it would be amazing if you support me by liking my photo on Instagram at their account. I'll let you know when that's happening and I'd be grateful for every heart I can get.
Die #besserwasser Challenge
Da ich ausgewählt wurde an der #besserwasser Challenge teilzunehmen, habe ich die großartige Chance bekommen den BWT Magnesium Mineralizer zu testen. Er reduziert die Karbonathärte und filtert Schwermetalle und Geschmäcker wie Chlor aus Leitungswasser. Doch er entkalkt nicht nur, sondern mineralisiert das Wasser auch noch mit Magnesium. Da ich ohne Magnesiumkapseln schnell Kopfweh bekomme, bin ich sehr gespannt, ob ich durch den Mineralizer einen Unterschied bemerke, wenn ich diese nicht mehr nehme. Besonders für aktive Menschen mit erhöhtem Magnesiumbedarf ist der BWT Magnesium Mineralizer ein interessantes Produkt. (Ein Review wird nach längerer Testphase dann folgen.)
Sollte ich dein Interesse geweckt haben, findest du hier genauere Information zum BWT Magnesium Mineralizer.
Zwei Rezeptkreationen
Im Rahmen der Challenge durfte ich ein Foto mit dem BWT Magnesium Mineralizer machen und habe die Gelegenheit beim Schopf gepackt, zwei Rezepte zu kreieren. Zum einen einen paleo und veganen Erdbeerrohkostkuchen und zum anderen ein Himbeersaft-Zitronen-Sirup-Rezept. Mit Magnesiumwasser und Kokoswasser aufgegossen, versorgt dieser Drink den Körper nach dem Sport optimal mit Magnesium und Elektrolyten, um die Erholung zu beschleunigen und Muskelkater vorzubeugen.
Wie ihr mich unterstützen könnt
Sollte mein Foto von der Jury ausgewählt werden, wird es auf Instagram auf dem Account von besserwasser gepostet. Das Foto, das am meisten Likes erhält, kann einen tollen Preis gewinnen. Falls ich in die finale Runde komme, lasse ich es euch natürlich wissen und würde mich über jedes Herzchen freuen!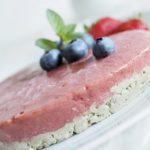 Raw strawberry cake
Servings
1
small heart cake
Ingredients
Crust/Boden:
100

g

over night soaked cashews or any other nut/über Nacht eingeweichte Cashews oder eine andere Nuss

1

teaspoon

matcha/TL Matcha

10

g

coconut oil/Kokosöl

20

g

rice syrup or date syrup/Reis- oder Dattelsirup

about 10ml filtered magnesium water/ca. 10ml BWT gefiltertes Wasser mit Magnesium

vanilla/Vanille

lemon peel/Zitronenschale
Füllung/Filling:
100

g

over night soaked cashews/über Nacht eingeweichte Cashews

80

g

frozen banana/gefrorene Banane

100

g

strawberries/Erdbeeren

30

g

rice syrup /Reissirup

filtered water with magnesium/BWT gefiltertes Wasser mit Magnesium
Instructions
Blend the ingredients for the crust in a food processor./Die Zutaten für den Boden in einer Küchenmaschine mixen.

Add as much Water as needed (about 10ml) to blend it./So viel Wasser hinzugeben wie nötig, um das Ganze zu mixen (ca. 10ml bei mir).

Fill into a form (silicone) and put it into the fridge./In eine Silikonform füllen und in den Kühlschrank stellen.

Blend all ingredients for the filling and add as much water as needed to blend it smoothly./Die Zutaten für die Füllung ebenfalls mixen und so viel Wasser hinzugeben, wie nötig, um das Ganze zu mixen.

Fill the cream on top of the base and put in the freezer for about two hours until firm./Die Creme auf den Boden geben und dann für ca. 2 Stunden in den Gefrierschrank stellen bis der Kuchen fest ist.
Recipe Notes
Nutritional information for 1/4 of the cake/Nähwerte für ein Viertel: 370 calories 26,5g c I 25g f I 10g p
Raspberry syrup
Ingredients
125

g

raspberries/Himbeeren

1

small biological lemon/kleine Bio-Zitrone

80

g

rice syrup /Reissirup

or another sweetener/oder eine andere Süße

250

ml

filtered water with magnesium/BWT gefiltertes Wasser mit Magnesium
Instructions
Heat honey and water in a pan and let it simmer while stirring until it is a syrup./Wasser und Honig aufkochen und unter Rühren köcheln lassen bis ein Sirup entsteht.

Add raspberries, lemon juice and lemon peel to the syrup and wait for about 10 minutes bevor blending it in a food processor./Die Himbeeren, Zitronensaft und -schale dazugeben und ca. 10 Minuten ziehen lassen, dann pürieren.

After letting the syrup cool down completely, pour the liquid through a fine strainer./Nachdem der Sirup vollständig abgekühlt ist, diesen durch ein feines Sieb gießen.

Enjoy the syrup with some mineralized water, coconut water and frozen berry instead of ice cube for a delicious drink!/Mit mineralisiertem Wasser, Kokoswasser und gefrorenen Berren als Eiswürfel erhält meinen einen tollen, erfrischenden Sommerdrink!