Follow my blog with Bloglovin I finally got a Bloglovin account! Make sure to press the follow button to support me.
The taste of vanilla that came out of the oven has already implicated that this cake would turn into my new favorite. Yet, I wasn't half as good as it really tasted.
Sour rhubarb.
Vanilla.
Marzipany almonds.
Sour redcurrant.
Sweet stevia.
Bitter dark chocolate.
It was a taste explosion that happened in my mouth when having the first bite. The combination of almonds, spices and fruit fresh from my grandmother's garden was more than heavenly.
This cake is a refreshing, light, yet filling one. Perfect for summer days on which you don't want to eat those rich and heavy chocolate cakes.
2017 is going to be my year?!
Starting this year with a lot of motivation, I feel like life is so great at the moment. In autumn last year, I moved to Munich, started university, met a lot of new people and actually started a new and exciting chapter of my life.
I started weight lifting, I finally feel like my gut health is stable, my first exams went very well and in May I started this blog.
What an amazing start in 2017!
Last week, I started working to earn some money and collect experience. It is a bit time challenging and consuming to manage my life right now but I enjoy it so far.
So what is going to come next?
I definitely want to do some short trips after my exams in August. Perhaps visit Berlin and meet some amazing people I met on Instagram. I also wanna see my old best friends back at home again.
Apart from that, I'll be working full-time while not having uni.
Another thing I want to do is getting a certified personal trainer.
What can you expect on this blog?
Blog-wise I want to provide you with more content. Of course a lot of recipes but also nutritional and fitness related post. For me it is really important to also talk about "tabu" topics and I want to focus on female topics such as hormones, periods and body image. And I want to introduce you to a lot of amazing personalities in my "talk with" series.
Youtube is also going to be a project. I'm thinking about filming some stuff like recipe videos, what I eat in a day, short workouts and perhaps even vlogs…
Definitely, let me know what you think about this in the comments below! Also don't be afraid to wish for anything topic-wise.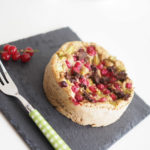 Rhubarb redcurrant almond cake
Ingredients
20

g

white almond flour/weißes Mandelmehl

20

g

ground almonds/gemahlene Mandeln

10

g

ground chufa/gemahlene Erdmandel

1

egg/Ei

30

ml

almond milk/Mandelmilch

3

g

baking powder

baking soda

vanilla and cinnamon/Vanille und Zimt

5

g

white almond butter/weißes Mandelmus

sweetener of choice /Süße

I used stevia/ich habe Stevia verwendet

redcurrants/Johannisbeeren

rhubarb/Rhabarber
Instructions
Preheat the oven at 180' C./Den Ofen auf 180 Grad vorheizen.

Mix dry ingredients and add egg yolk, almond milk and almond butter./Die trockene Zutaten vermengen und Eigelb, Mandelmilch und Mandelmus hinzugeben.

Whisk the egg white until stiff and fold into the dough./Das Eiklar steif schlagen und unter den Teig heben.

Fill the dough into a mini cake tin (10cm) or use about 3 muffin tins and topp with rhubarb and redcurrants./Den Teig in eine Miniform (12 cm) oder in etwa 3 Muffinförmchen füllen und den Rhabarber und die Johannisbeeren darauf verteilen.

Bake for about 30 minutes./Für etwa 30 Minuten backen.
Recipe Notes
I put some 100% chocolate pieces on top. /Ich habe noch 100% Schokoladestückchen darauf gegeben.
Nutritional information for the whole mini cake/Nährwerte für den ganzen Minikuchen:
380 calories
25,5g f I 10,2g c I 24,4g p
Products I use/meine Produktempfehlungen (affiliate links)
Mandelmehl weiß

Erdmandel

weißes Mandelmus
Stevia Pulver (kein affiliate link)