My daily meals always consist of heaps of veggies and some source of protein and good fats. To switch things up I use different spices and herbs and love to try new combinations which often leave me stunned by the taste explosion happening in my mouth. By far my favorite sauce for summer is this coconut sauce which I especially enjoy with fish, prawns or sea food. Of course, you can use it for anything you like: meat, tofu oder just to cook a coconut veggie pot.
Since discovering the combination of chili and vanilla, I use it for almost everything… sweet dishes and savory dishes.
This time I combined my very hot dried habanero chilis with ground vanilla, sweet coconut milk and fresh kefir lime leaves and lemongrass. It tastes so light and refreshing yet and on the other hand spicy and hot with a hint of sweetness.
My favorite side dish is purple and white sweet potoatos slices roasted in the oven with coconut oil and sea salt and I find that avocado goes perfectly along with that lime, chili and vanilla combo.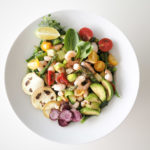 Coconut sauce
Ingredients
200

ml

coconut milk/Kokosmilch

chili/Chili

2

kefir lime leaves/Kefirlimettenblätter

vanilla/Vanille

1-2

stalks lemongras/Stiele Zitronengras

salt and pepper/Salz und Pfeffer

coriander/Koriander
Instructions
If you like it really spicy roast chili in coconut oil before adding meat/fish/tofu or veggies and fry them in a pan./Wer es gerne scharf mag, kann die Chili in Kokosöl rösten bevor das Fleisch/Fisch/Tofu oder auch nur Gemüse in einer Pfanne angebraten wird.

Add all of the other coconut sauce ingredients and let simmer for a couple of minutes./Die restlichen Zutaten der Kokosauce in die Pfanne geben und mit Deckel ein paar Minuten köcheln lassen.

Enjoy with some lime juice and fresh coriander!/Mit etwas Limettensaft und frischem Koriander genießen!