I love growing my own vegetables and herbs and always try to make as much homemade as I can. For me, there is nothing more satisfying than watching the tomatos on my little balcony turn from little green babies into juice, red, tasty jewels!
To celebrate my first harvested tomatos, I decided to make myself a soul food dish as reward for studying all day long. The recipe is perfect if you have some juicy, over ripe tomatos which call for pasta sauce!
This meal is not only paleo and vegan, it is also high in protein, includes healthy fats and my homemade cashew parmesan cheese provides you with all the vitamin B you need.
As a child, I was obsessed with parmesan cheese. I saw it as a little treat because I always had eczema and neurodermatitis when consuming dairy. Nevertheless, I enjoyed big chunks of it from time to time with olives and tomatos.
I have to confess that I didn't miss it all and somehow have forgotten about my parmesan addiction.
But since discovering cashew parmesan cheese, I've fallen in love with this taste again. Of course, it doesn't taste exactly the same but it is very delicious!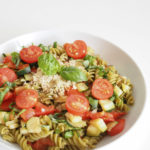 Roasted tomato pasta with cashew parmesan cheese
Ingredients
Roasted tomato pasta
80

g

pea pasta/Erbsennudeln

or any noodles you like/oder andere Nudeln

2

big, overripe tomato/große, überreife Tomaten

about 230g/ca 230g

1

middle sized zucchini/mittelgroße Zucchini

about 200g/ca 200g

5

g

olive oil/Olivenöl

salt, pepper, chili, garlic, herbs/Salz, Pfeffer, Chili, Knoblauch, Kräuter
Cashew parmesan cheese
10

g

cashews/Cashewkerne

2

g

nutritional yeast/Hefeflocken

1

teaspoon/TL

mustard seeds/Senfkörner

salt, pepper/Salz, Pfeffer
Instructions
Roasted tomato pasta
Roast the tomatos in the oven. (You can also skip this step and just use them not roasted and cut them and add them to the noodles but in my opinion, roasting gives the extra flavor!) Die Tomaten im Ofen backen. (Man kann sie auch gewürfelt ohne rösten zu den Nudeln geben, aber ich finde, dass der Geschmack gebacken einfach intensiver ist!)

Cook pasta./Die Nudeln kochen.

Heat a pan and add garlic and zucchini and fry them. Then add baked tomatos and smash them with spoon before adding the pasta. Add spices and when serving drizzle with olive oil. And don't forget the parmesan!/Eine Pfanne erhitzen und Knoblauch anschwitzen und die Zucchini anbraten. Dann die gebackenen Tomaten dazugeben und mit einem Löffel zerdrücken. Die Pasta und die Gewürze dazugeben. Vor dem servieren mit Olivenöl beträufeln. Parmesan nicht vergessen!
Cashew parmesan cheese
Blend all ingredients in a food processor and mix until you get parmesan texture./Alle Zutaten in eine Küchenmaschine geben und zu Parmesan zerkleinern.
Recipe Notes
Nutritional information/Nährwerte:
453 calories
56,7g c I 12,3 g f I 24,6g p