While sadly strawberry season has come to an end, reducrrants are the stars in the berry sky right now. They always remind me of my grandmother because every year we harvest a lot of redcurrants in her garden to make cake, syrup or freeze them for baking. I love the sour taste which goes perfectly along with this rich chocolate "Nutella" style cake. But they do not only taste amazing, they are also low in calories and glycemic index but provide you with a lot of nutrients. If you want to know which ones, scroll down for information!
As you probably noticed on Instagram, I'm trying to buy as much local products which are in season as possible. So stay tuned for some more redcurrant recipes coming your week the next few weeks!
If you want to join my movement to embrace local food, simply post your local bowl of happiness on instagram using #localbowlofhappiness and tagging me so I can see your creations. They can be sweet or savory, vegan or not, breakfast or dinner and so on! I want everyone to participate and show me how to be creative with local and seasonal food!
Nutrition facts per 100g redcurrants
Potassium – 7%
→ stabilizes blood pressure, promotes cardiovascular health
Fiber – 17%
→ prevents constipation
Protein – 2%
→ building blocks of life, important in the growth and maintenance of every cell in the body.
Vitamin C – 68%
→ strengthens the immune system, prevents free radical damage in body cells
Vitamin B6 – 5%
→ necessary for new skin cell formation
Magnesium – 3%
→ needed for transmission of nerve impulses, detoxification and energy production
Iron – 5%
→ essential for the formation of red blood cells
Calcium – 3%
→ important in the formation of strong bones and teeth
Data resource: USDA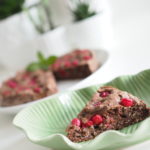 Redcurrant chocolate cake
Servings
1
small cake, 16 cm spring form
Ingredients
30

g

ground hazelnuts/gemahlene Haselnüsse

20

g

brown almond flour/braunes Mandelmehl

10

g

ground chuffs/gemahlene Erdmandel

5

g

unsweetened cacao powder/ungesüßtes Kakaopulver

2

eggs /Eier

separated, getrennt

3

g

baking powder/Backpulver

baking soda/Natron

vanilla/Vanille

40

ml

nut milk/Nussmilch

sweetener of choice /Süße

I used pure stevia powder, ich verwende pures Steviapulver

optional: 10g hazelnut butter/Haselnussmus

redcurrants/Johannisbeeren
Instructions
Preheat the oven at 180' C top- and bottom-heat./Den Ofen auf 180 Grad Ober-/Unterhitze vorheizen.

Mix ground hazelnuts, almond flour, ground chufa, cacao powder, egg yolks, baking powder, baking soda, vanilla and sweetener with nut milk. I love to also add some hazelnut butter for intense taste and better consistency./Die trockene Zutaten mit Eigelb und Nussmilch verrühren. Ich füge gerne Haselnussmus hinzu. Das sorgt für intensiveren Haselnussgeschmack und einen cremigeren Teig.

Whisk the two eggs whites until stiff and fold into the dough./Die zwei Eiklar steif schlagen und unterheben.

Fill the dough into a pan (I'm using a 16cm silicone spring form pan) and top with redcurrants./Teig in Form (ich verwende eine 16cm Silikonspringform) füllen und Johannisbeeren darauf geben.

Bake for about 30 minutes./Für etwa 30 Minuten backen.
Recipe Notes
You can also add some chocolate drops./Man kann dem Teig auch prima Schokostückchen hinzufügen.
Nutritional information for one piece without hazelnut butter/Nährwert für ein Stück ohne Haselnussmus:
127 calories
3,1g c I 9,2f I 7,5p
Products I use and recommend/Produktempfehlung (affiliate links)