Finally, I'm sharing a paleo AND vegan muffin recipe with you. Combining orange peel, poppy seeds and almonds was the best thing I've ever tried! Those muffins taste fresh and summery and sour and at the same time sweet raspberries go perfectly along with them.
I guess, this recipe meets a lot of different dietary needs. They are paleo, gluten free, dairy free, vegan, egg free, sugar free, high in protein and they contain healthy fats and good carbs, as well as a lot of fibre.
I could keep rambling about how perfect they are and taste for hours but I think, the best thing is to try them!
New addition to my paleo food staples: plantain flour
As some might know, it is not that easy to get paleo conform flour. The more excited was I when I discovered plantain flour
* in the supermarket. Using it the first time in this recipe, I was stunned. It is easy to use like rice flour or chestnut flour and it smells heavenly sweet and reminded me of "Fizzers". (A candy I had as a kind sometimes.) It is perfect for sweet dishes like cake, waffles, noatmeal or pancakes. Stay tuned for more recipes coming your way using this flour!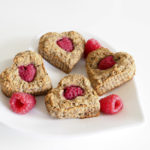 Orange poppy seed almond muffins
Ingredients
20

g

poppy seeds/Mohn

20

g

(plantain) banana flour/(Koch-)bananenmehl

or any other (gluten free) flour like chestnut, chufa or rice/oder ein anderes (glutenfreies) Mehl wie Kastanie, Erdmandel oder Reis

40

g

ground almonds/gemahlene Mandeln

40

g

almond flour/Mandelmehl

80

g

unsweetened apple sauce/Apfelmark

orange peel/Orangenschale

90

ml

almond milk/Mandelmilch

5

g

baking powder/Backpulver

baking soda/Natron

splash/Schuss

apple cider vinegar/Apfelessig

sweetener of choice/Süße nach Wahl

I used pure stevia powder./Ich habe reines Steviapulver verwendet.

raspberries/Himbeeren
Instructions
Preheat the oven at 200' C top- and bottom-heat./Den Ofen auf 200 Grad Ober-/Unterhitze vorheizen.

Mix all ingredients apart from the raspberries and fill the dough into muffin tins./Alle Zutaten außer den Himbeeren vermengen und in Muffinförmchen füllen.
Top with raspberries and bake in the oven for 25 minutes until golden./Himbeeren darauf geben und für 25 Minuten goldbraun backen.
Recipe Notes
Nutritional information for one muffin/Nähwerte für einen Muffin: 79 calories 4g c I 5g f I 5g p
Products I use and recommend/meine Produktempfehlungen:
plantain flour/Bananenmehl
*
almond flour/Mandelmehl
*
Products marked with * are affiliate links. If you want to support me and make sure that I can provide you with content in future, you can buy products using these links without paying extra money while I'm able to earn some money.