What's better than snacking on some coconut bites fresh out of the fridge after a butt kicking workout?
Those protein balls – paleo and vegan depending on the protein you are using – remind me a bit of a bounty but with fresh fruit and obviously without chocolate. (Bounty lovers check out my bounty bites!)
Not only are this coconut berry protein balls easy and quick to make, you can also make a batch to keep in the fridge for a couple of days always ready to grab some on the go! Due to the coconut they are naturally sweet (but not too sweet… add a sweetener if you like), while berries bring that sour freshness to energize you.
I hope you enjoy the recipe video! If you would like to see more videos like this, make sure to head to my Youtube channel, like, comment what you want to see next and give the video a thumbs up.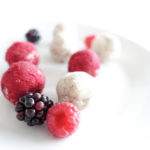 Coconut berry protein balls
Ingredients
25

g

coconut flour/Kokosmehl

50

g

coconut yoghurt/Kokosjoghurt

10

g

protein powder or more flour/Proteinpulver oder mehr Mehl

I used collagen protein/ich habe Collagen Protein verwendet

lemon peel, vanilla/Zitronenschale, Vanille

berries as filling/Beeren für die Füllung

optional: fruit powder to coat the balls/Fruchtpulver zum Rollen
Instructions
Mix all ingredients apart from berries and fruit powder./Alle Zutaten außer die Beeren und das Fruchtpulver vermischen.

Form balls with a berry in the middle./Eine Beere in die Mitte geben und Bällchen formen.

If you want to you can coat the balls with fruit powder./Wer mag kann die Bällchen noch in Fruchtpulver rollen.
Recipe Notes
Nutritional information/Nähwerte: for 8 balls
218 calories
10g c I 11g p I 14g f
Products I use and recommend/Produktempfehlungen:
coconut flour/Kokosmehl
*
Collagen Protein
*
raspberry powder/Himbeerpulver
*
All products with * are affiliate links. If you want to support me without paying extra money, you can purchase my favorite products through these links. This will enable me to continue providing you with content and help to grow my blog.