When it is getting colder outside, it is time for warming one pot dishes again. I love the simplicity of making one pot dishes. They don't take a lot of time to make and as the name suggests you only need one pot to make them. This recipe is also great to make a bigger batch of as part of your meal prep. Combined with a protein of choice you get an easy and delicious dish that will surprise your taste buds.
I love experimenting with spices to create new combinations. This 6-spices meal is great for your immune system due to turmeric, chili and ginger, supports digestion due to cumin and stabalizes blood sugar thanks to a dash of cinnamon.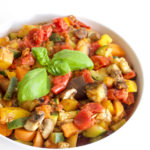 6-spices pumpkin one pot
Ingredients
150

g

carrots/Karotten

about 2 medium ones/ca. 2

250

g

butternut pumpkin/Butternusskürbis

200

g

zuchini/Zuchini

half a bigger one/die Hälfte einer großen

200

g

eggplant/Aubergine

150

g

fennel/Fenchel

a small fennel/ein kleinerer Fenchel

100

g

mushrooms/Champignons

400

g

canned cherry tomatoes/Kirschtomaten aus der Dose

1 can/1 Dose

turmeric/Kurkuma

cumin/Kreuzkümmel

cardamom/Kardamom

chili/Chili

freshly grated ginger/frisch geriebener Ingwer

cinnamon/Zimt

5

g

coconut oil/Kokosöl

1 teaspoon/1 TL
Instructions
Cut up veggies into small cubes/pieces./Das Gemüse klein würfeln.

Roast spices with coconut oil in a pan before adding veggies and frying them. /Die Gewürze mit Kokosöl in einer Pfanne erhitzen und kurz rösten und dann das Gemüse dazugeben und kurz braten.

Add a bit water and cook veggies until ready./Mit etwas Wasser ablöschen und das Gemüse weich kochen lassen.

Add canned tomatoes, salt and pepper and let simmer until warm./Die Tomaten, Salz und Pfeffer dazugeben und köcheln lassen bis es warm ist.
Recipe Notes
Nutritional information/Nährwerte: 427 calories 59g c I 21,7g p I 9,1g f