Posting this recipe was as spontaneously as baking this delicious paleo and gut healing pound cake.
After a long train ride, I arrived at home – with new mini pound cake tins in my luggage. Despite being tired, I decided to treat myself to a late night dessert and throw together all ingredients I love most. That's how this cake was born.
Actually, I just took some photos for Instagram but when one of my followers asked me for the recipe I decided to write it down and put a blog post together. 
This recipe is quite similar to my coconut muffins with chocolate frosting (will go up on Sunday).
The cake is high in protein due to the almonds, the almond flour and pea protein, contains a lot of good fats from nuts and an egg and raw cacao is packed with antioxidants. Apple cider vinegar and coconut yoghurt support your gut health while gelatin (organic, grass-fed, hormone free!!! – not conventional gelatin!) is great for bones, joints, hair, nails, skin and also your gut.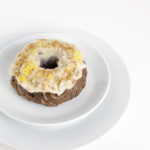 Orange almond pound cake with cinnamon frosting
Servings
1
mini pound cake
Ingredients
30

g

almond flour/Mandelmehl

10

g

ground almonds/gemahlene Mandeln

10

g

plantain flour/Bananenmehl

or any other starchy flour like chufa, chestnut, millet, rice/oder ein anderes stärkehaltiges Mehl wie Erdmandel, Kastanie, Reis, Hirse

5

g

pea protein/Erbsenprotein

or more flour or nuts/oder mehr Mehl oder Nüsse

10

g

raw cacao/Rohkakao

or unsweetened cacao powder/oder ungesüsstes Kakaopulver

5

g

coconut flour/Kokosmehl

1

egg/Ei

50

g

grated zucchini/geriebene Zucchini

120

ml

almond milk/Mandelmilch

1

teaspoon/TL

orange peel/Orangenschale

splash of/Schuss

apple cider vinegar/Apfelessig

baking soda/Natron

5

g

baking powder/Backpulver

sweetener of choice/Süße nach Wahl

I used raw stevia powder/ich habe reines Steviapulver verwendet
Cinnamon Frosting
50

g

coconut yoghurt

cinnamon/Zimt

vanilla/Vanille

orange peel/Orangenschale

sweetener of choice/Süße nach Wahl

I used raw stevia powder/ich habe reines Steviapulver verwendet

4

g

gelatin/Gelatine

optional
Instructions
Preheat the oven at 180' C top- and bottom-heat./Den Ofen auf 180 Grad Ober-/Unterhitze vorheizen.

Mix all cake ingredients apart from the egg and then separate the egg and add the yolk./Die trockene Zutaten für den Kuchen mit Eigelb und Nussmilch verrühren.

Whisk the egg white until peaks form and fold into the dough./Das Eiklar steif schlagen und unterheben.

Fill the dough into a mini pound cake tin or muffin tins (I prefer silicone) and bake for 25-30 minutes./Den Teig in eine Mini Kranzform oder Muffinförmchen füllen (ich finde Silikon am besten) und 25 bis 30 Minuten backen.

For the frosting mix all ingredients and top the cake after cooled down./Für das Frosting alle Zutaten vermengen und auf den ausgekühlten Kuchen geben.
Recipe Notes
Nutritional information for the whole cake/Nährwerte für den Kuchen:
450 calories
17,8g c I 37,7g p I 22,2g f
Products I recommend:
almond flour/Mandelmehl
*
raw cacao/Rohkakao
*
pea protein/Erbsenprotein
*
All products with * are affiliate links. If you want to support me without paying extra money, you can purchase my favorite products through these links. This will enable me to continue providing you with content and help to grow my blog.