While others are celebrating pancake Sunday, I stick to my usual cake. Actually, this cake is far from being your usual cake. It's healthy, paleo, high in protein and something completely new taste-wise. 
My newest addition to the kitchen is tonka bean. Exciting to try it, I made this fig cake and put some tonka bean into and onto the cake (aka the golden shimmer on top).
Its taste reminds me of almonds, marzipan and is also kind of bitter. It goes perfectly along with nuts, chocolate and spices like cinnamon, vanilla, glove or orange peel. 
As Christmas and baking season is coming soon, I can totally recommend investing in some tonka bean and adding it to your recipes. It will give them a little twist but don't worry its taste is not to intense.
Although, I don't like figs, those over-ripe sweet figs and flours that are sweet and flavorful themselves (plantain, coconut and almond flour) combine perfectly with the bitter almond taste of the tonka bean.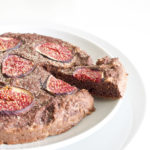 Fig tonka bean chocolate cake
Ingredients
20

g

plantain flour/Bananenmehl

chestnut tastes great, too/Kastanienmehl schmeckt auch toll

20

g

coconut flour/Kokosmehl

10

g

almond flour/Mandelmehl

5

g

pea protein/Erbsenprotein

or more almond flour/oder mehr Mandelmehl

10

g

unsweetened cacao/ungesüsstes Kakaopulver

1

egg/Ei

5

g

baking powder/Backpulver

baking soda/Natron

130

ml

almond milk

splash/Schuss

apple cider vinegar/Apfelessig

tonka bean, vanilla, orange peel/Tonkabohne, Vanille, Orangenschale

sweetener of choice/Süße nach Wahl

1

fig/Feige

as topping/oben drauf
Instructions
Preheat the oven at 180' C top- and bottom-heat./Den Ofen auf 180 Grad Ober-/Unterhitze vorheizen.

Mix all cake ingredients apart from the egg (and fig) and then separate the egg and add the yolk. /Die trockene Zutaten (außer die Feige) für den Kuchen mit Eigelb und Nussmilch verrühren.

Whisk the egg white until peaks form and fold into the dough./Das Eiklar steif schlagen und unterheben.

Fill the dough into a mini cake tin or muffin tins (I prefer silicone), top with fig slices and bake for 25-30 minutes./Den Teig in eine Miniform oder Muffinförmchen füllen, Feigenscheiben darauf geben und 25 bis 30 Minuten backen.
Recipe Notes
Nutritional information for the whole cake/Nährwerte für den ganzen Kuchen:
352 calories
28g c I 25g p I 12g f
Products I recommend:
coconut flour/Kokosmehl
*
pea protein/Erbsenprotein
*
All products with * are affiliate links. If you want to support me without paying extra money, you can purchase my favorite products through these links. This will enable me to continue providing you with content and help to grow my blog.