Officially addicted. 
Since Verena introduced me to her jelly mousse, there is hardly a day without eating one. I've already tried a lot of different variations but recently I'm in love with this one. This jelly mousse is not only fluff porn when it comes to consistency, it is also a great lower calorie snack option and full of health benefits.
Tart cherries are high in vitamins and are especially great after a workout because they reduce muscle damage due to numerous antioxidant and anti-inflammatory compounds. There is also research that shows that cherries seem to speed up the recovery of muscle function.
The collagen of gelatin is great for your bone structure, your joints, healthy and glowing skin and hair, helps to strengthen your nails and is good for your gut!
When speaking about gelatin, I don't mean your conventional store bought gelatin made of poor pig bones. This kind of gelatin is not only not very ethnical to use but also loaded with antibiotics and hormones. A product you better avoid! 
I recommend investing in a gras-fed and hormone free beef gelatin (like the one from Great Lakes*
).
Unfortunately, this recipe doesn't work as well with agar agar. The consistency doesn't get fluffy and like a jelly mousse at all. It reminded me more of a pana cotta. You can still try using agar agar as a vegan option but don't blame me if it doesn't turn out good.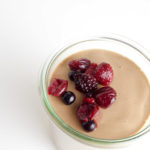 Gingerbread chocolate cherry mousse
Ingredients
12

g

gelatin/Gelatine

120

ml

almond milk

100

ml

boiled water/gekochtes Wasser

5

g

raw cacao/Rohkakao

gingerbread spice/Lebkuchengewürz

vanilla/Vanille

100

g

frozen tart cherries/TK Sauerkirschen

sweetener of choice/Süße nach Wahl
Instructions
Mix boiled water, spices, sweetener and almond milk in a food processor until smooth. (You can also heat up the ingredients in a pan but using boiled water works fine and saves some time.)/Das kochende Wasser mit Gewürzen, Gelatine und Süße mit Mandelmilch in einen Standmixer füllen und mixen. (Du kannst die Zutaten auch in einem Topf kurz erhitzen, das gekochte Wasser ist aber eine schnellere Lösung mit dem selben Ergebnis.)

Add frozen cherries and mix again until smooth. Fill into a bowl and put into the freedge until a firm mousse./Die gefrorenen Kirschen dazugeben und kurz mixen. In eine Schüssel füllen und in den Kühlschrank stellen bis das Mousse fest ist.
Recipe Notes
Nutritional information/Nährwerte:
120 calories
9,5g c I 14,5g p I 2,2g f
Products I recommend:
gras-fed gelatin/grasgefütterte Rindergelatine
*
raw cacao/Rohkakao
*
All products with * are affiliate links. If you want to support me without paying extra money, you can purchase my favorite products through these links. This will enable me to continue providing you with content and help to grow my blog.