Welcome back to cookie season! Christmas isn't that far away anymore and with that it is time to start baking cookies again. I decided to not start with a traditional cookie recipe but with cookies that are using seasonal products aka cranberries.
This is the first time in my life, I have ever had cranberries and I am addicted now. Stay tuned for two more amazing recipe using cranberries coming your way!
But let's talk cookies now. This recipe can be adjusted according to your diet. For paleo folks: use a whole egg or almond butter* for a fattier version and use egg whites for a lower calorie and high protein version.
For the vegan folks out there, almond butter or any other nut butter is a great option.
Also, if you are allergic to nuts, you can use ground chufa (tigernut) instead of almond flour.
As a sweetener I either use 100% pure raw stevia powder or yacon syrup
*.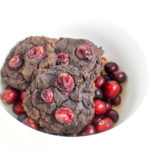 Chocolate cranberry cookies
Ingredients
30

g

almond flour/Mandelmehl

10

g

coconut flour/Kokosmehl

10

g

unsweetened cacao powder/ungesüsstes Kakaopulver

0,5

teaspoon/TL

baking powder/Backpulver

45

g

egg whites or almond butter/Eiklar oder Mandelmus

a whole egg should work, too/ein Ei sollte auch funktionieren

10

g

coconut oil/Kokosöl

sweetener of choice/Süße nach Wahl

50

ml

almond milk/Mandelmilch

vanilla, orange peel/Vanille, Orangenschale

cranberries/Cranberrys
Instructions
Preheat the oven at 200' C top- and bottom-heat./Den Ofen auf 200 Grad Ober-/Unterhitze vorheizen.

Mix all ingredients except cranberries in a bowl./Alle Zutaten außer den Cranberrys vermischen.

Place one tablespoon cookie dough onto a baking tin and press flat and put some cranberries on top. Make cookies until no dough is left./Einen EL Keksteig auf ein Backblech geben und flach drücken und Cranberries darauf geben. So den ganzen Teig zu Keksen verarbeiten.

Put the cookies into the oven for about 15 minutes./Die Kekse für etwa 15 Minuten backen.
Recipe Notes
Nutritional information for one of six cookie/Nährwerte für einen von sechs Keksen: Egg white variation 48 calories 1g c I 4g p I 2g f Almond butter variation 89 calories 2g c I 5g p I 6g f
Product recommendations:
almond flour/Mandelmehl
*
coconut flour/Kokosmehl
*
coconut oil/Kokosöl
*
yacon syrup/Yacon Sirup
*
All products with * are affiliate links. If you want to support me without paying extra money, you can purchase my favorite products through these links. This will enable me to continue providing you with content and help to grow my blog.