As a kid, my grandma used to make jello every Sunday.  I never was a real addict but especially in summer I enjoyed vanilla jello with strawberry sauce and berry syrup.
Lately, I have been experimenting a lot with gelatin. Gelatin contains collagen which has a lot of health benefits for you skin, nails, hair, bones and your gut. But be careful – I am not talking about conventional gelatin from poor porks. I am talking about gelatin
* from organic, grass fed cows who have had a happy life outside.
Somehow, the idea of remaking jello was born and I was trying different variations over the last few weeks. I am so proud,I finally managed my cashew milk jello recipe! 
Thanks to the different spices this jello has a unique, somehow chocolaty and a bit caramelly taste.
And of course, there is some maca
* in there. You know how much I am trying to support my hormones.
Served with fresh fruit and with some chocolate sauce on top, these jellos are a perfect dessert – and even very low in calories and high in protein! For the chocolate sauce I just mixed raw cacao
*, coconut oil
, vanilla and some orange peel together.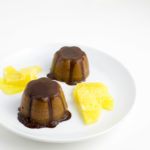 Cashew cinnamon maca jello
Total Time
3
hours
15
minutes
Ingredients
115

ml

cashew milk/Cashewmilch

115

ml

cinnamon tea/Zimttee

12

g

gelatin/Gelatine

1

teaspoon/TL

cinnamon/Zimt

1

teaspoon/TL

maca/Maca

optional

1

teaspoon/Tl

carob/Carob

optional

1

teaspoon/TL

raw cacao/Rohkakao

optional

sweetener of choice/Süße nach Wahl

I used raw stevia powder; 2 tbsp date syrup or honey work, too/ich habe Steviapulver verwendet; 2 EL Dattelsirup oder Honig funktionieren auch
Instructions
Dissolve the gelatin in about half the cashew milk (room temperature)./Die Gelatine in der Hälfte der Cashewmilch (Raumtemperatur) auflösen.

Warm up the cinnamon tea and the other half of the cashew milk. Then turn off the heat./Den Zimttee und den Rest der Cashewmilch aufwärmen. Dann den Herd ausschalten.

Add gelatin mixture and the rest of the ingredients into the pan and whisk well until everything is combined./Die Gelatinemischung und die restlichen Zutaten in den Topf geben und gut verrühren.

Pour the mixture into jello tins or silicone muffin tins. Put in the fridge for at least three hours./Den Pudding in Förmchen oder auch Silikonmuffinförmchen füllen. Für mindestens drei Stunden im Kühlschrank kühl stellen.
Recipe Notes
Nutritional information for the whole recipe/Nähwerte für das ganze Rezept: 108 calories 6g c I 13g p I 3g f
Product recommendations:
cashew milk/Cashewmilch
*
cinnamon tea/Zimttee
*
gelatin/Gelatine
*
maca/Maca
*
carob/Carob
*
raw cacao/Rohkakao
*
All products with * are affiliate links. If you want to support me without paying extra money, you can purchase my favorite products through these links. This will enable me to continue providing you with content and help to grow my blog.