I'm addicted to hemp. I'm addicted to brownies. And I love simple and quick recipes. Not to mention that this one is high in protein, paleo and vegan!
For my crunchy hemp brownies all you need are 4 ingredients: hemp protein
*, raw cacao
* and coconut flour
* as well as some pumpkin or apple sauce. You can add any spices you like and top the brownies with some hemp seeds for extra crunch.
And ready is your healthy sweet treat breakfast or snack!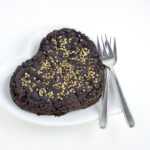 4-ingredients crunchy hemp brownies
Servings
1
small heart (6 muffins/brownies)
Ingredients
80

g

hemp protein or flour/Hanfprotein oder -mehl

20

g

raw cacao/Rohkakao

120

g

pumpkin or apple sauce/Kürbispüree oder Apfelmark

10

g

Kokosmehl

baking powder & soda/Backpulver & Natron

sweetener of choice/Süße nach Wahl

i used pure stevia powder/ich habe reines Steviapulver verwendet

60

ml

water or nut milk/Wasser oder Nussmilch

1

tbsp/EL

hemp seeds/Hanfsamen

about/ca 5g
Instructions
Preheat the oven at 200' C top- and bottom-heat./Den Ofen auf 200 Grad Ober-/Unterhitze vorheizen.

Mix all ingredients together, fill dough into a tin and top with hemp seeds for extra crunch./Alle Zutaten vermengen, in eine Form füllen und Hanfsamen darüber geben für den extra Crunch.

Bake for about 25-30 minutes./Für etwa 25-30 Minuten backen.

Let cool down completely before removing from the tin and cutting into brownie pieces./Komplett abkühlen lassen und dann aus der Form holen und in Browniestücke schneiden.
Recipe Notes
Nutritional information for one brownie (from 6)/Nähwerte für einen Brownie (von 6):
69 calories
2g c I 6g p I 2g f
whole cake/ganzer Kuchen:
413 calories
12g c I 38g p I 14g f
Product recommendations:
hemp protein/Hanfprotein
*
raw cacao/Rohkakao
*
coconut flour/Kokosmehl
*
All products with * are affiliate links. If you want to support me without paying extra money, you can purchase my favorite products through these links. This will enable me to continue providing you with content and help to grow my blog.