Yes, your eyes are not lying to you – I managed to create paleo and vegan "meatballs"!
Creating this recipe was a big success for me because I have been trying to work out paleo falafel or paleo and vegan "meatballs" for a couple of months.
When you can't have any legumes and grains, it is not possible to find any falafel or "meatball" product on the market that meets your needs.
After discovering a recipe for a vegan meatloaf that was made of chickpeas, mushrooms, eggplant and almonds in one of my friend's cookbooks, I got the idea to try and experiment with the ingredients (apart from the chickpeas, of course) and after trying different variations, I like this one most. The consistency and color is pretty similar to real meatballs and they somehow even taste a bit like meat. But what is most important: they taste soooo delicious and are the perfect option for anyone who doesn't want or can't have grains, legumes, meat, eggs and diary. 
The main ingredients are almond flour
* and eggplant. Depending on what you feel like try using different spices! My fave is by far chili and cajun spice which I love to have with meat but also veggies and now I put it in my "meatballs". Can't help it – I just love those spices…
I'd love to get some feedback on this recipe because I am so proud and happy that it finally worked out! 
Definitely, give those a try and let me know what you think.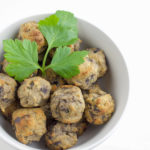 Spicy "meatballs"
Ingredients
250

g

eggplant/Aubergine

about a medium eggplant/ca eine mittlere Aubergine

60

g

almond flour/Mandelmehl

5

g

nutritional yeast/Hefeflocken

5

g

psyllium husk/Flohsamen

5

g

flax meal/Leinmehl

chili, garlic, onion/Chili, Knoblauch, Zwiebeln

salt, pepper/Salz, Pfeffer

herbs of choice/Kräuter nach Wahl

cajun spice/Cajun Gewürz
Instructions
Preheat the oven at 200' C top- and bottom-heat./Den Ofen auf 200 Grad Ober-/Unterhitze vorheizen.

Cook or steam eggplant before mixing all ingredients in a food processor to get a fine ground beef consistency. You don't want it to be a cream, there should still be some chunks left./Die Aubergine kochen oder garen und dann mit den restlichen Zutaten in einer Küchenmaschine zu feinem Hack verarbeiten. Es sollte keine Creme sein, sondern schon noch ein paar Stückchen enthalten.

Form small balls and place on a baking tin./Kleine Bällchen formen und auf ein Backblech geben.

Bake for about 40 minutes until golden./Für etwa 40 Minuten backen bis sie schön goldig sind.
Recipe Notes
Nutritional value for the whole recipe/Nährwerte fürs ganze Rezept:
329 calories
14g c I 39g p I 9g f
Product recommendations:
flax meal/Leinmehl
*
almond flour/Mandelmehl
*
nutritional yeast/Hefeflocken
*
psyllium husk/Flohsamen
*
cajun spice/Cajun
*
All products with * are affiliate links. If you want to support me without paying extra money, you can purchase my favorite products through these links. This will enable me to continue providing you with content and help to grow my blog.