Celebrating my 20th birthday with this single serving paleo and vegan birthday cake: a chocolate cake with berry jello sauce.
Can't believe how fast time goes by… I am living on my own for over a year now, have already finished half of uni and accomplished so much this last year.
I am not the person who likes to celebrate and meet up with a lot of people, so I decided to do what I love most on my birthday: training, eating, baking, strolling through the city with my best friend and reading a good book. If you would like to see my birthday workout and how I bake this delicious vegan and paleo chocolate cake with berry jello sauce, then watch my birthday vlog!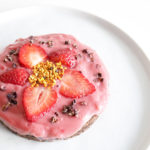 Single serving birthday cake
Ingredients
Chocolate cake
15

g

almond flour/Mandelmehl

10

g

pea protein/Erbsenprotein

or more almond flour/oder mehr Mandelmehl

10

g

plantain flour/Bananenmehl

or any other starchy flour (chufa, rice, oat...)/oder ein anderes stärkehaltiges Mehl (Erdmandel, Reis...)

10

g

ground almonds/gemahlene Mandeln

5

g

coconut flour/Kokosmehl

10

g

unsweetened cacao powder/ungesüsstes Kakaopulver

sweetener of choice/Süße nach Wahl

I used pure stevia powder/ich habe reines Stevia Pulver verwendet

50

g

pumpkin sauce/Kürbispüree

or apple sauce/oder Apfelmark

1

teaspoon/TL

baking powder/Backpulver

1/2

teaspoon/TL

baking soda/Natron

1

splash of/Schuss

apple cider vinegar/Apfelessig

60

ml

liquid/Flüssigkeit
Berry jello sauce
100

ml

almond milk/Mandelmilch

2

g

agar agar/Agar Agar

1

teaspoon/TL

raspberry powder/Himbeerpulver

80

g

frozen strawberries/TK-Erdbeeren
Instructions
Chocolate cake
Preheat the oven at 200' C top- and bottom-heat./Den Ofen auf 200 Grad Ober-/Unterhitze vorheizen.

Mix all ingredients for the chocolate cake and fill the dough into a mini cake tin (or 2-3 muffin tins)./Alle Zutaten für den Kuchen verrühren und den Teig in eine Minikuchenform füllen (oder in 2-3 Muffinformen).

Bake for about 25 minutes and then let cool down./Für etwa 25 Minuten backen und dann abkühlen lassen.
Berry jello sauce
Bring the almond milk, berry powder and agar agar to a boil and cook for about 2 minutes./Die Mandelmilch mit dem Beerenpulver und dem Agar Agar zum Kochen bringen und dann etwa 2 Minuten köcheln lassen.

Blend the agar agar liquid with frozen strawberries until you get a smooth sauce./Die Agar Agar Flüssigkeit mit den TK-Beeren in einer Küchenmaschine zu einer cremigen Sauce mixen.

Put on top of the cake, add some toppings and chill in the fridge for at least an hour./Die Creme auf den Kuchen geben, Toppings darauf verteilen und dann für mindestens eine Stunde kühl stellen.
Recipe Notes
Nutritional information/Nährwerte:
311 calories
21g c I 23g p I 12g f
Product recommendations:
almond flour/Mandelmehl
*
coconut flour/Kokosmehl
*
plantain flour/Bananenmehl
*
cacao powder/Kakaopulver
*
pure stevia powder/reines Stevia Pulver
*
pea protein/Erbsenprotein
*
agar agar/Agar Agar
*
All products with * are affiliate links. If you want to support me without paying extra money, you can purchase my favorite products through these links. This will enable me to continue providing you with content and help to grow my blog.