Who is up for some delicious paleo and vegan maca chocolate?
Maca is a so-called superfood that can offer a lot of health benefits such as energizing and lifting up your mood. Some people also believe in hormone balancing effects of maca.
Maca is a root vegetable that comes from Peru and its taste always reminds me a bit of caramel. It's definitely something you have to like and get used to taste wise but I personally am a huge fan of maca powder
*.
On of my favorite ways to incorporate it into my diet is as chocolate. If you are an almond and maca fan like me, you definitely have to try this little vegan and paleo maca chocolate bars! They are perfect as a quick and energizing snack to curb your sweet cravings.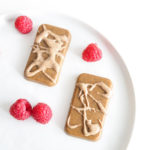 Maca chocolate
Ingredients
20

g

cacao butter/Kakaobutter

5

g

coconut oil/Kokosöl

20

g

almond flour/Mandelmehl

or ground almonds/oder gemahlene Mandeln

10

g

maca/Maca

vanilla/Vanille

sweetener of choice/Süße nach Wahl

I used pure stevia powder/ich habe pures Steviapulver verwendet
Instructions
Melt cacao butter and coconut oil and mix with the other ingredients./Den Kakaobutter mit Kokosöl schmelzen und die anderen Zutaten unterrühren.

Fill in some little silicone tins and put in the freezer for 30 minutes./In kleine Silikonförmchen füllen und für 30 Minuten in den Gefrierschrank geben.

Store in the fridge./Im Kühlschrank aufbewahren.
Recipe Notes
Nutritional information for one bar/Nährwerte für einen Riegel:
143 calories
4g c I 3g p I 13g f
Product recommendations:
cacao butter/Kakaobutter
*
almond flour/Mandelmehl
*
maca/Maca
*
pure stevia powder/pures Steviapulver
*
All products with * are affiliate links. If you want to support me without paying extra money, you can purchase my favorite products through these links. This will enable me to continue providing you with content and help to grow my blog.