Apple crumble cake – matching my London trip this week, I created this paleo apple hazelnut crumble cake recipe.
Great Britain is know for crumble and what is there better than a warm apple cake straight from the oven that smells like heaven due to the sweet apple juices and warming spices that fill the air while baking?
While the original crumble cake is made with lots of butter, flour and sugar, this paleo cake is a healthier version. It still is a rich cake but indulging form time to time is so necessary to feed your mind and soul!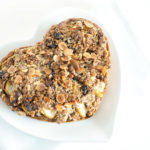 Apple hazelnut crumble
Ingredients
Cake
60

g

almond flour/Mandelmehl

50

g

ground chufa/Erdmandelmehl

1

egg/Ei

1/2

teaspoon/TL

baking soda/Backpulver

1/2

teaspoon/TL

baking powder/Natron

a splash of/ein Schuss

apple cider vinegar/Apfelessig

sweetener of choice

70

ml

almond milk/Mandelmilch

1

apple/Apfel

1

teaspoon/TL

cinnamon/Zimt
Crumble
20

g

ground hazelnut/gemahlene Haselnüsse

10

g

coconut oil/Kokosöl

10

ml

hazelnut oil/Haselnussöl

20

g

chopped dates/gehackte Datteln

vanilla/Vanille
Instructions
Preheat the oven at 180' C top- and bottom-heat./Den Ofen auf 180 Grad Ober-/Unterhitze vorheizen.

Mix all cake ingredients apart from the egg (and apple) and then separate the egg and add the yolk. /Die trockene Zutaten (außer den Apfel) für den Kuchen mit Eigelb und Nussmilch verrühren.

Whisk the egg white until peaks form and fold into the dough./Das Eiklar steif schlagen und unterheben.

Mix/knead all ingredients for the crumble./Alle Zutaten für die Streusel vermengen/kneten.

Fill the dough into a mini cake tin (I prefer silicone), top with apple slices, add the crumble and if desired some sliced hazelnut for extra crunch and bake for 25-30 minutes./Den Teig in eine Miniform füllen, Apfelscheiben darauf geben, die Streusel darauf geben, eventuell ein paar Haselnussscheiben für den extra Crunch dazugeben und 25-30 Minuten backen.
Recipe Notes
Nutritional information for one slice (of 4)/Nährwerte für 1 Stück (von 4):
254 calories
16g c I 12g p I 15g f
Product recommendations:
almond flour/Mandelmehl
*
ground chufa/Erdmandelmehl
*
hazelnut oil/Haselnussöl
*
coconut oil/Kokosöl
*
All products with * are affiliate links. If you want to support me without paying extra money, you can purchase my favorite products through these links. This will enable me to continue providing you with content and help to grow my blog.