Finally strawberries and asparagus are in season! And what is there better than a jackfruit curry that brings on spring and summer vibes?!
I used jackfruit for the first time and I immediately fell in love with it! Its taste is quite neutral, a bit lemony and fried in green curry paste
* it soaks up all the spices and turns out like a pulled chicken curry but vegan and paleo.
This refreshing and spicy curry goes perfectly along with the vanilla chili veggies and juicy fresh strawberries.
And to complete this delicious meal I fried some cauliflower rice in avocado oil
* which makes it even tastier. If you prefer having more carbs you can just use normal rice instead of cauliflower rice. 
Talking about carbs – this dish is more than macro friendly: can you believe that this whole bowl only contains 287 calories? And it still is very delicious and filling.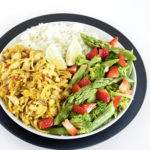 Jackfruit curry
Ingredients
Jackfruit curry/Jackfrucht curry
1

can/Dose

jackfruit/Jackfrucht

225g

1

teaspoon/TL

green curry paste/grüne Currypaste

1

chili/Chili

salt, pepper, turmeric, garlic, ginger/Salz, Pfeffer, Kurkuma, Knoblauch, Ingwer
Cauliflower rice/Blumenkohl Reis
400-500

g

cauliflower/Blumenkohl

I always use 500g frozen cauliflower./Ich verwende immer 500g TK-Blumenkohl.

1

teaspoon/TL

avocado oil/Avocadoöl

5g

1/4

onion/Zwiebel

coriander, salt, pepper/Koriander, Salz, Pfeffer
Vanilla chili veggies/Vanille Chili Gemüse
4

green asparagus/grüner Spargel

100g

2

strawberries/Erdbeeren

50g

1/4

brokkoli/Brokkoli

70g

1

teaspoon/TL

coconut oil

5g

vanilla, chili flakes, salt, pepper/Vanille, Chiliflocken, Salz, Pfeffer
Instructions
Cook the cauliflower and mix it in a food processor to get rice./Den Blumenkohl kochen und in einer Küchenmaschine zu Reis zerkleinern.

Sauté your veggies (apart from strawberries) in coconut oil and adds spices. At the same time sauté your jackfruit with the curry paste and spices in a pan./Das Gemüse (ohne Erdbeeren) im Kokosöl mit den Gewürzen anbraten.

Fry cauliflower rice in avocado oil, add spices and some fresh coriander./Nebenbei den BLumenkohlreis in einer Pfanne in Avocadoöl anbraten, würzen und frischen Koriander dazugeben.

Add strawberries to your veggies and serve everything on a plate with some fresh coriander and lime./Die Erdbeeren zum Gemüse geben und alles auf einem Teller anrichten und mit frische Koriander und Limette servieren.
Recipe Notes
Nutritional information/Nährwerte:
287 calories
21g c I 14g p I 11g f
Product recommendations:
jackfruit/Jackfrucht
*
green curry paste/Grüne Curry Paste
*
turmeric/Kurkuma
*
avocado oil/Avocadoöl
*
coconut oil/Kokosöl
*
All products with * are affiliate links. If you want to support me without paying extra money, you can purchase my favorite products through these links. This will enable me to continue providing you with content and help to grow my blog.