Rhubarb, strawberries, elderflower – this time of the year is definitely my favorite! To combine all my favorite ingredients that are in season at the moment, I created this paleo and vegan rhubarb elderflower brownie. The rich elderflower brownie and the sweet and refreshing rhubarb and strawberry topping is perfect for every summer party. 
As I get asked so often what my go to sweetener is as I can't have sugar, sugar alcohols and sweeteners high in fructose (it causes my IBS to flare up), I quickly want to talk about stevia. I personally only use pure stevia powder * and I like the sweetness it gives baked goods and that it doesn't cause me any issues. If you wanna try stevia, definitely make sure that you invest in a pure product – a lot of stevia sweeteners that can be found in the grocery store contain other ingredients like maltodextrin, sucralose or erythrit.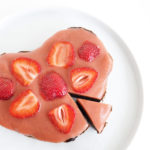 Rhubarb elderflower brownie
Servings
1
mini heart cake
Ingredients
for the brownie
20

g

plantain flour/Bananenmehl

or any other starchy flour/oder ein anderes stärkehaltiges Mehl

15

g

coconut flour/Kokosmehl

20

g

almond flour/Mandelmehl

10

g

unsweetened cacao powder/ungesüsstes Kakaopulver

60

g

apple sauce/Apfelmark

10

g

elderflowers/Holunderblüten

1/2

teaspoon/TL

baking soda/Natron

1/2

teaspoon/TL

baking powder/Backpulver

vanilla/Vanille

sweetener of choice/Süße nach Wahl

I used pure stevia powder/ich habe reines Steviapulver verwendet

a splash of/ein Schuss

apple cider vinegar/Apfelessig
rhubarb strawberry topping
100

g

rhubarb/Rhabarber

100

g

strawberries/Erdbeeren

3

g

agar agar powder/Agar Agar Pulver

lemon peel/Zitronenabrieb

sweetener of choice/Süße nach Wahl

I used pure stevia powder/ich habe reines Steviapulver verwendet
Instructions
Preheat the oven at 200' C top- and bottom-heat./Den Ofen auf 200 Grad Ober-/Unterhitze vorheizen

Mix all ingredients for the brownie apart from the elderflowers. Then carefully add elderflowers into the dough and fill it into a baking tin (or muffin tins)./Alle Zutaten für den Brownie außer den Holunderblüten vermengen. Dann diese vorsichtig unterheben und den Teig in eine kleine Form oder in Muffinförmchen füllen.

Bake the brownie for 25 minutes and then let it cool down./Den Brownie für 25 Minuten backen und dann abkühlen lassen

For the topping, cook the cut-up rhubarb and strawberries in a pan with a splash of water until smooth and than puree it with the sweetener and some lemon peel. Add agar agar and let simmer until it is a thick jam./Für das Topping den Rhabarber und die Erdbeeren klein schneiden und mit etwas Wasser köcheln und dann mit der Süße und etwas Zitronenabrieb pürieren. Das Agar Agar Pulver hinzugeben und solange köcheln bis eine dickflüssige Marmelade entstanden ist.

Put your rhubarb and strawberry sauce on top of the cake and add some toppings like strawberries if you like. Then let the cake sit in the fridge for 1 or two hours./Die Rhabarber- und Erdbeersauce auf dem Brownie verteilen und gegebenenfalls noch Toppings wie Erdbeeren darauf geben. Dann den Brownie für 1-2 Stunden kühl stellen.
Recipe Notes
Nutritional information for the entire cake/Nährwerte für den ganzen Brownie:
307 calories
36g c I 19g p I 5g f
Product recommendations:
almond flour/Mandelmehl
*
plantain flour/Bananenmehl
*
coconut flour/Kokosmehl
*
pure stevia powder/reines Steviapulver*
All products with * are affiliate links. If you want to support me without paying extra money, you can purchase my favorite products through these links. This will enable me to continue providing you with content and help to grow my blog.