You probably know that I am all about maca and its health benefits… soooooo I got creative and created a light and macro-friendly dessert that is perfect for hot summer days and suitable for almost everyone as it is paleo, vegan, doesn't contain any nuts or soy!
Maca* makes the unique flavor of this panna cotta and adding salted maca caramel protein* (my fave – paleo. vegan, contains BCAA's & digestive enzymes and no artificial stuff!) helps to create this intense caramel and sweet flavor.
And if you have a look at the macros, you'll find out that you can even eat both of them or even make double the amount and enjoy it all at once!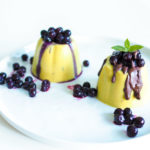 Maca protein panna cotta
Ingredients
200

ml

cashew milk/Cashewmilch

creamy homemade one is the best!/die cremige selbstgemachte ist am besten!

15

g

salted maca caramel protein/Salted Maca Caramel Protein

5

g

maca/Maca

1

tsp/TL

vanilla/Vanille

1

tsp/TL

orange peel/Orangenschale

3

g

agar agar/Agar Agar

sweetener of choice/Süße nach Wahl

I used pure stevia powder, 3 tbsp coconut sugar works well, too/I verwende pures Steviapulver, 3 EL Kokosblütenzucker ist auch wunderbar
Instructions
Bring cashew milk, agar agar and sweetener to a boil and then add spices, protein powder and maca and stir for two minutes until it thickens./Die Cashewmilch, Agar Agar und Süße aufkochen, dann die Gewürze, das Proteinpulver und Maca dazugeben und für etwa 2 Minuten unter ständigem Rühren eindicken lassen.

Then pour it into two small (or one big) glas jars or higher silicone muffin tins and chill in the freezer for about 15 minutes. Store in the fridge until you serve it./Die Creme in zwei kleine Gläschen oder etwas höhere Silikonmuffinförmchen füllen (oder in eine größere Form) und für etwa 15 Minuten in den Gefrierschrank stellen. Bis zum Servieren dann im Kühlschrank aufbewahren.
Recipe Notes
Nutritional information for one panna cotta/Nährwerte für ein Panna Cotta:
79 calories
6g c I 7g p I 3g f