Sometimes its the simply dishes that feed our souls. I am deeply in love with spicy and at the same time refreshing stir fry dishes at the moment. This ginger prawn stir fry is perfect to fuel yourself with healthy carbs, proteins and fats.
Ginger, garlic, turmeric, chili… all those spices are anti-inflammatory and turn the ginger prawn stir fry into a tasty and delicious alternative to take away!
Lemon grass adds a little refreshing kick but if you don't have access to it don't worry – you can also add some fresh lime juice when serving, for example. My favorite way to enjoy stir fry is with thai basil which has a spicier flavor and its aroma leans toward anise.
Of course, the best thing is to have this ginger prawn stir fry freshly cooked form scratch but it is also great cause you can easily prep and pre-cook your veggies & protein source ahead and then just throw everything in a pan and fry it. Takes literally 10 minutes and off you go with a delicious and healthy lunch bowl!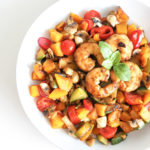 Ginger prawn stir fry
Ingredients
1

container prawns/Packung Shrimps

serves 2 people (225g)/Packung für 2 Personen (225g)

300

g

butternut pumpkin/Butternuss Kürbis

300

g

sweet potato/Süßkartoffel

1 medium to large/1 mittlere bis größere

400

g

zucchini/Zucchini

1 big one/1 große

1

red pointed pepper/rote Spitzpaprika

150

g

cherry tomatoes/Cherrytomaten

1

tbsp

avocado oil/Avocadoöl

or coconut oil (for frying)/oder Kokosöl (zum Braten)

200

g

mushrooms/Champignons

half a container/halbe Box

chili, salt, pepper, ginger, turmeric, garlic, lemon grass/Chili, Salz, Pfeffer, Ingwer, Kurkuma, Knoblauch, Zitronengras
Instructions
Defrost prawns and cook pumpkin and sweet potato. In the meantime cut up your veggies./Die Garnelen auftauen, den Kürbis und die Süßkartoffel kochen und in der Zwischenzeit das Gemüse klein schneiden.

Heat up avocado oil in a pan and add chili, lemon grass and garlic and fry them for extra intense flavor. Then add your veggies and the pre-cooked pumpkin and sweet potato and fry until cooked./Das Avocadoöl in einer Pfanne erhitzen und die Chili, das Zitronengras und den Knoblauch für einen intensiven Geschmack anbraten. Dann das Gemüse und den vorgekochten Kürbis und Süßkartoffel dazugeben und anbraten bis es gekocht ist.

Add salt, pepper, turmeric and freshly grated ginger. Serve with thai basil./Mit Salz, Pfeffer, Kurkuma und frisch geriebenem Ingwer abschmecken. Am besten mit Thaibasilikum servieren.
Recipe Notes
Nutritional information for one serving/Nährwerte:
1 smaller serving (recipe makes 2):
374 calories
56g carbs I 28g protein I 5g fat
1 big serving (entire recipe for one bowl):
747 calories
112g carbs I 57g protein I 9g fat