PEANUT chocolate cake?? Yes, peanut.
As you probably know, I have some serious issues when having legumes (especially soy). Peanuts have been on my red list for two years and I am happy that I tolerate small amounts of raw peanut flour
*  for baking now. So I substituted my usual almond flour with it and created that rich and moist peanut chocolate cake.
It is gluten free and if you use almond flour instead of peanut and plantain instead of rice flour, it is also paleo.
Zucchini makes sure that the cake has a perfect brownie consistency as well as adding some coconut oil BUT you can leave the oil out it you wanna save some fats/calories.
The apple cider vinegar does not only have a lot of health benefits but also reacts with baking soda and makes the cake extra fluffy – so don't skip that!
And the frosting is packed with nutrients and offers a lot of health benefits as well… collagen
*, turmeric ginger raw cacao (my favorite raw cacao – they have different flavors and also care for their cacao farmers… honest recommendation & not affiliated), probiotic almond yoghurt – they all help with inflammation and gut health!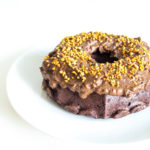 Peanut chocolate cake
Servings
1
mini cake or 6 muffins
Ingredients
Cake/Kuchen
25

g

peanut flour/Erdnussmehl

or almond flour or ground chufa/oder Mandel- oder Erdmandelmehl

15

g

raw cacao/Rohkakao

or usweetened cacao/oder Backkakao ungesüsst

10

g

coconut flour/Kokosmehl

25

g

rice flour/Reismehl

or plantain/oder Bananenmehl

sweetener of choice/Süße nach Wahl

I used pure stevia powder/ich habe reines Steviapulver verwendet

5

ml

coconut oil/Kokosöl

optional - skip if you want to save some calories/optional - um Kalorien zu sparen einfach weglassen

30

ml

egg whites/Eiklar

or 1 small egg/oder 1 kleines Ei

80

g

grated zucchini/geraspelte Zucchini

1/2

tsp

baking powder/Backpulver

1/2

tsp

baking soda/Natron

a splash/ein Schuss

apple cider vinegar/Apfelessig
Frosting
80

g

almond yoghurt/Mandeljoghurt

1

tbsp

ginger turmeric raw cacao/Kurkuma Ingwer Rohkakao

vanilla/Vanille

1/2

scoop

collagen protein/Collagenprotein

sweetener if desired/Süße, wenn gewüscht
Instructions
Preheat the oven at 200' C top- and bottom-heat./Den Ofen auf 200 Grad Ober-/Unterhitze vorheizen.

Mix all ingredients for the cake with 90ml liquid and fill into a mini cake tin or muffin tins./Alle Zutaten für den Teig mit 90ml Flüssigkeit verrühren und in eine kleine Kuchenform oder 6 Muffinförmchen füllen.

Bake for around 25 minutes./Für etwa 25 Minuten backen.

Mix all ingredients for the frosting. Add a splash of almond milk if the frosting is too thick and top your cake after it has cooled down completely and add any other toppings you like./Alle Zutaten für das Frosting verrühren und gegebenenfalls einen Schuss Mandelmilch unterrühren, sollte die Creme zu dickflüssig sein. Wenn der Kuchen abgekühlt ist, das Topping darauf geben und nach Belieben noch mit anderen Toppings verzieren.
Recipe Notes
Nutritional information for the entire cake/Nährwerte für den ganzen Kuchen:
386 calories
34g carbs I 26g protein I 13g fat
Product recommendations:
coconut flour/Kokosmehl
*
peanut flour/Erdnussmehl
*
collagen protein/Collagenprotein
*
rice flour/Reismehl
*
pure stevia powder/reines Steviapulver*
All products with * are affiliate links. If you want to support me without paying extra money, you can purchase my favorite products through these links. This will enable me to continue providing you with content and help to grow my blog.