Salads are for Summer, right? Well, I am not very keen on eating cold and raw veggies when it is cold and dark outside. Actually, I'm craving soups, one pot dishes and other warming dishes at this time of the year.
But as I am a huge veggie lover, I recently enjoy making warm veggie salads. I love combing veggies and fruit, being creative with spices and different dressings.
This recipe is a perfect light detox side salad that nourishes your body, mind and soul. The subtle sweetness of fennel goes perfectly along with the orange and the sweet and warming spices in the dressing. Turmeric
* helps you to stay healthy during holiday season and boosts your immune system! And don't forget to use an apple cider vinegar
* that still contains the mother for all the health benefits.
Depending on your diet, ad a good source of protein and probably some more fat to this salad. I love combining it with either salmon or chicken and a fried egg!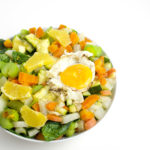 Fennel orange salad
Ingredients
200

g

turnip cabbage/Kohlrabi

half a small one/ca ein halber

200

g

carrots/karotten

2 bigger ones/2 etwas größere

1

fennel/Fenchel

or half a bigger one/oder die Hälfte eines großen

200

g

zucchini/Zucchini

about a half/ca eine halbe

1

orange/Orange

2

stalk/Stangen

celery/Staudensellerie
Dressing
10

ml

apple cider vinegar/Apfelessig

5

ml

olive oil/Olivenöl

turmeric, cinnamon/Kurkuma, Zimt

orange peel/Orangenschale

salt, pepper/Salz, Pfeffer
Instructions
Cut up all the veggies and cook turnip cabbage, carrots, fennel and zucchini. Before cutting the orange save some orange peel and put the juice of the orange from cutting into a bowl for the dressing./Das Gemüse schneiden und den Kohlrabi, die Karotten, Fenchel und Zucchini kochen. Vor dem Schneiden der Orange etwas Orangenschale abreiben und den Saft, der beim Schneiden der Orange austritt in eine Schüssel für das Dressing geben.

For the dressing mix apple cider vinegar, olive oil, orange juice, orange peel and spices and add a splash of water./Für das Dressing Apfelessig, Öl, Orangensaft, Orangenschale und Gewürze mit ein wenig Wasser vermischen.

Mix cooked veggies, orange and celery and add your dressing. Let sit for some minutes before serving. The salad is best when lukewarm and marinated for some time./Das gekochte Gemüse, Orangenstücke und Sellerie vermengen und das Dressing dazugeben. Stehen lassen, damit der Salat mit dem Dressing etwas ziehen kann. Der Salat schmeckt am besten lauwarm und ein paar Minuten mariniert.
Recipe Notes
Nutritional information/Nährwerte:
299 calories
43g c I 17g p I 6g f
All products with * are affiliate links. If you want to support me without paying extra money, you can purchase my favorite products through these links. This will enable me to continue providing you with content and help to grow my blog.