Autumn calls for warming dishes again. My favorite go to breakfast for colder mornings is this baked rice porridge.
Mostly I prep it the night ahead and then just warm it up in the microwave the next morning. Depending on what fruit is available you can switch things up – plums, apples, pears,… seasonal autumn food mostly goes perfectly along with warming spices like cinnamon, tonka bean and vanilla!
Thanks to egg whites and almond flour this dish also contains a fair amount of protein and of course some carbs which also makes it the perfect pre workout breakfast: easy digestible carbs & protein is what you should aim for. Too much fat will only slow down your digestion and can cause issues during your workout.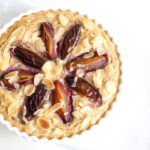 Baked rice porridge
Ingredients
60

g

rice flakes/Reisflocken

50

ml

egg whites/Eiklar

or 1 egg/oder 1 Ei

20

g

almond flour/Mandelmehl

30

g

coconut flour/Kokosmehl

2

plums/Zwetschgen

vanilla, tonka bean, cinnamon/Vanille, Tonkabohne, Zimt

1 tsp baking soda/Natron

a splash of apple cider vinegar/ein Schuss Apfelessig

sweetener of choice/Süße nach Wahl

I used pure stevia powder/ich habe reines Steviapulver verwendet
Instructions
Preheat the oven at 200' C top- and bottom-heat./Den Ofen auf 200 Grad Ober-/Unterhitze vorheizen

Soak your rice flakes and then add all the other ingredients and mix with 140ml water or nut milk./Die Reisflocken einweichen und wenn die Flüssigkeit "aufgesogen" ist, die anderen Zutaten mit 140ml Wasser oder Nussmilch verrühren.

Fill the rice porridge into a bowl, top with plums and bake for 25 minutes. You can also add some additional toppings like nuts./Den Reisporridge in eine Schüssel füllen, Zwetschgenhälften darauf geben und 25 Minuten backen. Man kann nach Belieben auch noch andere Toppings wie zum Beispiel gehobelte Nüsse darauf geben.
Recipe Notes
Nutritional information/Nährwerte:
431 calories
56g c I 27g p I 8g f
Product recommendations:
almond flour/Mandelmehl
*
coconut flour/Kokosmehl
*
pure stevia powder/reines Steviapulver*
All products with * are affiliate links. If you want to support me without paying extra money, you can purchase my favorite products through these links. This will enable me to continue providing you with content and help to grow my blog.