Savory snacking and breakfast is boring? Not with those delicious pumpkin rosemary muffins!
I am trying to create more savory recipes at the moment cause I started baking sweet things and snacking on muffin and cake daily the last couple of weeks. Especially in autumn, there are so many amazing veggies and fruit that you can use for savory meals, so it is the perfect time to do so.
Depending on the pumpkin you choose, the recipe is lower calorie and carb or higher. My favorite is nutmeg pumpkin – packed with nutrients but low in calories: you can even eat the entire recipe for 183 calories!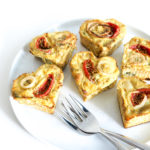 Pumpkin rosemary muffins
Ingredients
300

g

pumpkin/Kürbis

hokkaido (or nutmeg for lower calories)/Hokkaido (oder Muskatkürbis für weniger kcal)

15

g

almond flour/Mandelmehl

10

g

coconut flour/Kokosmehl

50

ml

egg whites/Eiklar

or 1 big egg/oder 1 großes Ei

1/2

onion/Zwiebel

rosemary/Rosmarin

salt, pepper, chili, turmeric/Salz, Pfeffer, Chili, Kurkuma

1/2

tsp

baking soda/Natron

a splash of apple cider vinegar/ein Schuss Apfelessig
Instructions
Preheat the oven at 200' C top- and bottom-heat./Den Ofen auf 200 Grad Ober-/Unterhitze vorheizen.

Cut up pumpkin, cook it, smash it with a fork and then combine it with all the other ingredients./Den Kürbis würfeln, kochen und dann mit einer Gabel zermatschen und mit den anderen Zutaten vermengen.

Fill the dough into muffin tins and top with some cherry tomatoes, onion and more rosemary./Den Teig in Muffinförmchen füllen und ein paar Cherrytomaten, Zwiebelringe und etwas Rosmarin darauf geben.

Bake for 25-30 minutes until golden./25-30 Minuten backen bis die Muffins goldbraun sind.
Recipe Notes
Nutritional information/Nährwerte:
entire recipe with hokkaido pumpkin/gesamtes Rezept mit Hokkaidokürbis:
315 calories
43g c I 21g p I 5g f
entire recipe with nutmeg pumpkin/gesamtes Rezept mit Muskatkürbis:
183 calories
18g c I 17g p I 3g f
Product recommendations:
almond flour/Mandelmehl
*
coconut flour/Kokosmehl
*
All products with * are affiliate links. If you want to support me without paying extra money, you can purchase my favorite products through these links. This will enable me to continue providing you with content and help to grow my blog.