The good old jelly sandwich – as a kid I was obsessed with raspberry jam on my toast or sandwich… so I thought why not create a recipe with a twist. Here you go with chocolate raspberry donut sandwiches.
I personally love the combination of chocolate and berries and for me this recipe is perfect to start the day. You can even have all 3 donuts for one meal and it will provide you with some good carbs and enough protein to keep you full and fuel you for the day!
♦ paleo (or gluten free depending on the flour you use)
♦ yeast free
♦ lower in fat & higher in protein than your casual donut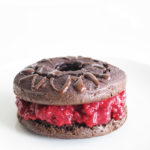 Chocolate raspberry donut sandwich
Ingredients
Donut dough
10

g

coconut flour/Kokosmehl

20

g

almond flour/Mandelmehl

20

g

ground chufa/Erdmandelmehl

or rice or millet flour/oder Reis- oder Hirsemehl

15

g

raw cacao/Rohkakao

or unsweetened cacao/oder Backkakao

1/2

tsp

baking soda/Natron

1/2

tsp

baking powder/Backpulver

50

g

almond yoghurt/Mandeljoghurt

1

egg/Ei

sweetener of choice/Süße nach Wahl

I used pure stevia/ich habe reines Stevia verwendet
Raspberry jam
100

g

raspberries/Himbeeren

I deforsted frozen ones/ich habe TK-Himbeeren einfach aufgetaut

vanilla & orange peel/Vanille & Orangenschale

sweetener if desired/Süße wenn erwünscht

1

tbsp/EL

psyllium husk seeds/Flohsamen
Instructions
Donuts
Preheat the oven at 200' C top- and bottom-heat./Den Ofen auf 200 Grad Ober-/Unterhitze vorheizen.

Combine all ingredients for the donut dough and add around 50ml of liquid and whisk until everything is blended./Alle Zutaten für den Donutteig mit 50ml Flüssigkeit verrühren bis ein Teig entsteht.

Fill the dough into donut baking tins and bake for around 25 minutes./In Donutförmchen füllen und etwa 25 Minuten backen.
Raspberry jam
Microwave or cook your raspberries shortly and then add psyllium husk seeds, the spices and your sweetener (if needed) to the raspberry sauce and let it sit in the fridge to thicken./Die Himbeeren in der Mikrowelle erwärmen oder kurz köcheln und dann Flohsamen, die Gewürze und Süße (wenn nötig) zur Himbeersauce geben. Dann zum andicken in den Kühlschrank geben.

Fill your donuts with the jam, add a chocolate glaze if you want to and enjoy!/Die Donuts mit der Marmelade füllen, wenn erwünscht mit Schokoladenglasur verzieren und genießen!
Recipe Notes
Nutritional information for one donut/Nährwerte für einen Donut:
145 calories
8g c I 9g p I 7g f
Product recommendations:
almond flour/Mandelmehl
*
coconut flour/Kokosmehl
*
pure stevia powder/reines Steviapulver*
All products with * are affiliate links. If you want to support me without paying extra money, you can purchase my favorite products through these links. This will enable me to continue providing you with content and help to grow my blog.